Description
Do It Yourself 12 Volt Solar Power begins with a lesson in how electricity works and the main components of a DIY 12 Volt solar system. The author uses clear diagrams and terms. There is, of course, more technical information as the book progresses, but don't worry, this no-nonsense guide provides a useful, back-to-basics approach for the layperson.
This is a reference book that will help you trouble-shoot and get the best value for money from what you can find hidden in the back of the garage. Quirky and humorous, it also shows you how to make a sun following system using just a bicycle wheel, a pallet and the motor from a CD player!
"Michel goes that extra mile, but he has the great gift of making it lively and fun. Both the man and this book are a real inspiration." – Chris Stewart, author of Driving Over Lemons.

3rd Edition published 2016 (first published 2007)
Permanent Publications
Paperback, 160 pages, b&w. 158 line drawings and 38 diagrams
ISBN: 9781856232425
---
ABOUT THE AUTHOR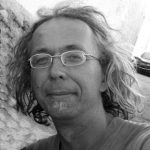 Michel Daniek
, was born in Germany. On reaching thirty, he found himself dissatisfied, bought himself a truck, and left in search of other ways to live. During his travels, he experimented with a small solar system in his truck and ever since has used solar energy in his day-to-day life. Interested in technology, Michel was able to play in his father's workshop since early childhood, and as a teenager completed an apprenticeship as an industrial mechanic in the motor industry. For a number of years, Michel worked as a bicycle mechanic for handicapped people. After leaving Germany and traveling around Europe, Michel became convinced that small decentralised solar systems are the perfect solution for our global energy problems and set about writing
Do It Yourself 12 Volt Solar Power
to give the most inexperienced people the confidence to take up solar-power generation in their lives. Since 1997, Michel has been living in an alternative village in the sunny south of Spain.