Description
From James Beard Award winner and New York Times-bestselling author of The Art of Fermentation: the recipes, processes, cultural traditions, and stories from around the globe that inspire Sandor Katz and his life's work – a cookbook destined to become a modern classic essential for every home chef.
Sandor Katz's Fermentation Journeys reminds us that the magical power of fermentation belongs to everyone, everywhere. Perfect for adventurous foodies, armchair travellers, and fermentation fanatics who have followed Katz's work through the years – from Wild Fermentation to The Art of Fermentation to Fermentation as Metaphor – this book reflects the enduring passion and accumulated wisdom of this unique man, who is arguably the world's most experienced and respected advocate of all things fermented.
Contents
List of Recipes
Introduction
1. Simple Sugars
2. Vegetables
3. Grains and Starchy Tubers
4. Mold Cultures
5. Beans and Seeds
6. Milk
7. Meat and Fish
Epilogue
A Whole World in a Jar
Acknowledgments
Image Credits
Notes
Index
Reviews
"Sandor's life of curiosity-filled travel and exploration elicits a sense of wonder as tastes, sights, and smells leap off the pages to ignite your imagination." – David Zilber, chef, fermenter, food scientist, and coauthor of The Noma Guide to Fermentation
"Sandor Katz transposes his obsession with one of mankind's foundational culinary processes into a cookbook-cum-travelogue." – The New York Times
"There is perhaps nobody more broadly knowledgeable and contagiously curious about the world's fermentation traditions than the effervescent Sandor Katz." – Civil Eats
"It's a fantastic read for anyone." – Food52
Published: November, 2021
Chelsea Green Publishing
Format: Hard cover, 352pp. Full colour photographs throughout.
Size: 254mm x 178mm
ISBN: 9781645020349
---
ABOUT THE AUTHOR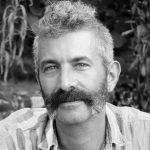 Sandor Ellix Katz
is a fermentation revivalist. A self-taught experimentalist who lives in rural Tennessee, his explorations in fermentation developed out of overlapping interests in cooking, nutrition, and gardening.
Wild Fermentation
, originally published in 2003, along with his
The Art of Fermentation
(2012) and the hundreds of fermentation workshops he has taught around the world, have helped to catalyze a broad revival of the fermentation arts.
Newsweek
called
Wild Fermentation
"the fermenting Bible," and
The New York Times
calls Sandor "one of the unlikely rock stars of the American food scene." For more information, check out his website
www.wildfermentation.com
.