Description
Is this the first ever permaculture concept album? Permaculture: A Rhymer's Manual is a whole new way to learn all 12 of the principles, with catchy beats that not only get your toes tappin' but will inspire you to get into motion.
"Formidable Vegetable Sound System is spearheading a new and exciting form of musical activism and becoming one of the most important voices in a global cultural movement that began right here in Australia." – Harry Angus, The Cat Empire
Featuring the voice and 1940's Parisian-jazz-style ukulele grooves of Western Australian permaculture troubadour, Charlie Mgee, alongside an all-star cast of Australian musicians including the likes of horn-playing vocal explorer, Mal Webb and 10 piece live electro-swing band Ensemble Formidable, the album is filled to the brim with tracks of truly groove-worthy proportions in various out-there styles ranging from 'energy-descent electro-swing' and 'climate-change reggae' to 'peak-oil polka' and 'post-apocalypso'.
Stream some tracks of 'Sample Music' from the tab above or check out the 'Yield' video below for a tempting taste of permaculture. You can also download the song lyrics and chords from our free downloads page.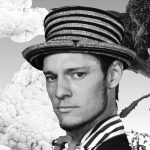 Growing up in a tin shed with a veggie garden, a composting toilet and one solar panel for power in the south-west of Western Australia, Charlie lived the low-impact lifestyle from a young age and realised early on that you don't need a lot to be happy in life. In 2011, Charlie went off to study the regenerative design process of permaculture and soon after, formed
Formidable Vegetable
 – a new kind of band based entirely around principles of sustainable living with the hope of inspiring people everywhere to grow their own food, raise chickens and generally make the world a better place. More recently, Charlie and the band have performed at many Australian and international festivals, including Glastonbury (UK), Secret Garden Party (UK), BOOM (Portugal), Shambhala (Canada), Symbiosis (USA), Woodford (QLD) and Rainbow Serpent (VIC) to delightfully packed dance floors and venues.
Charlie Mgee
– Music with a Purpose:
Patreon page