Description
Do you dream of a low maintenance perennial garden? One that is full to the brim of perennial vegetables that you don't have to keep replanting, but only have a small space? Do you struggle with too little time for gardening or controlling the pests and diseases that eat your crops? Do you want to grow unusual vegetable varieties? You can do all of this with Edible Perennial Gardening. It includes:
Getting started and basic principles
Permaculture, forest gardening and natural farming
Growing in polycultures
How to chose suitable leafy greens, onions, roots, tubers and herbs
Site selection and preparation
Building fertility
Low maintenance management strategies
I love Anni's book. She's taken traditionally 'big space' ideas and approaches and brought them alive on a domestic scale, where most gardeners operate. The bigger picture of redesigning our food system with perennials at its heart underlies, yet it never gets in the way of inspiring and enabling the reader with case studies, examples, advice and experience. A must-have for forward thinking gardeners. Mark Diacono, experimental gardener, journalist and author of A Year at Otter Farm.  This is a valuable addition to the literature on growing perennial vegetables. The author's experiences of creating and maintaining polycultures are a great guide and inspiration to this challenging aspect of edible perennial gardening. Martin Crawford, director of the Agroforestry Research Trust and author of Creating a Forest Garden and How To Grow Perennial Vegetables
Published 2014
Permanent Publications
Paperback, 176 pages, colour illustrations and photographs throughout.
ISBN: 9781856231497
---
ABOUT THE AUTHOR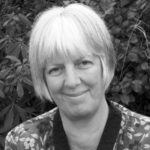 Anni Kelsey graduated with a first-class degree in geography from Aberystwyth University in 1990. She has worked as a research officer for a council's economic development department and on various urban regeneration projects. She is passionate about permaculture, forest gardening, and the Transition Movement.