Description
Throughout this truly one-of-a-kind book, Katz showcases fifty mesmerising, original images of otherworldly beings from an unseen universe – images of fermented foods and beverages that he has photographed using both a stereoscope and electron microscope – exalting microbial life from the level of "germs" to that of high art. When you see the raw beauty and complexity of microbial structures, Katz says, they will take you "far from absolute boundaries and rigid categories. They force us to re-conceptualise. They make us ferment."
Fermentation as Metaphor broadens and redefines our relationship with food and fermentation. It's the perfect gift for serious foodies, fans of fermentation, and non-fiction readers alike.
"An amazing, beautiful meditation…  A meditation in the classical sense of thinking and fermenting through your emotions and feelings about the world… I knew this was going to be different and I am so thrilled it is." – Chef David Zilber, co-author of The Noma Guide to Fermentation
Published: October 15, 2020
Chelsea Green Publishing
Hardcover, 128 pages, full-colour photography throughout.
ISBN: 9781645020219
---
ABOUT THE AUTHOR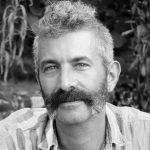 Sandor Ellix Katz
is a fermentation revivalist. A self-taught experimentalist who lives in rural Tennessee, his explorations in fermentation developed out of overlapping interests in cooking, nutrition, and gardening.
Wild Fermentation
, originally published in 2003, along with his
The Art of Fermentation
(2012) and the hundreds of fermentation workshops he has taught around the world, have helped to catalyze a broad revival of the fermentation arts.
Newsweek
called
Wild Fermentation
"the fermenting Bible," and
The New York Times
calls Sandor "one of the unlikely rock stars of the American food scene." For more information, check out his website
www.wildfermentation.com
.