Description
In part 1, David outlines the history of permaculture as a design concept and a global environmental movement in the context of the emerging energy descent brought on by the peaking and decline of global oil supply and the whole spectrum of environmental, economic and social crises. Relocalisation of our economies and communities is highlighted as the central organising strategy for creative grass roots adaptive response to the energy descent future, both to build resilience and capacity in the face of unprecedented threats, and grasp the creative opportunities from energy descent.
In part 2, David uses his photos of examples of the diversity of permaculture design solutions from his own property Melliodora as well as the wider world of permaculture to show the scope and depth of permaculture design in the home, garden, farm, forest, community and ecomomy.
The permaculture flower is used to bring these diverse examples together. David ends with the imperatives for relocalisation and an inspiring example of how permaculture activism has led to relocalisation.
The DVD includes introductions by Christine Carroll of Permaculture Noosa and Dr Anne Miller of the University of the Sunshine Coast Queensland as well as an extended Q & A session.
Compatibility:
Apple OSX, Windows PC, PAL DVD Video – All Regions.
Length: 115 minutes, filmed in August 2006.
---
About the Author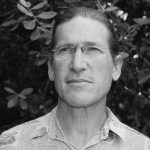 David Holmgren is best known as the co-originator with
Bill Mollison
of the permaculture concept following the publication of
Permaculture One
in 1978. Within the growing and international permaculture movement, David is respected for his commitment to presenting permaculture ideas through practical projects and teaching by personal example, that a sustainable lifestyle is a realistic, attractive and powerful alternative to dependent consumerism. As well as constant involvement in the practical side of permaculture, David is passionate about the philosophical and conceptual foundations for sustainability, which he explored in
Future Scenarios
(2009), and
Permaculture: Principles and Pathways Beyond Sustainability
(2003/2017) and his most recent book
RetroSuburbia
(2018). With an increasingly high profile as a public speaker, David Holmgren provides leadership with his refreshing and unorthodox approach to the environmental issues of our time. David lives with his partner Su Dennett at "
Melliodora
", a one-hectare permaculture demonstration site at Hepburn Springs, Central Victoria, Australia. Visit his web site at
holmgren.com.au
.