Description
A gift of 'permaculture knowledge' from Timor-Leste
The revised and expanded international edition of The Tropical Permaculture Guidebook is a comprehensive reference guide to tropical permaculture. This unique book provides practical information for anyone, regardless of experience.
This edition has grown from the Permaculture Guidebook from Timor-Leste produced in 2008. The core ethos and vision of the original book – providing practical knowledge to anyone who reads it, especially in poor, low literacy and disadvantaged communities – is retained and enhanced in this new edition.
The 1,100+ page guidebook contains over 2000 superb illustrations and clear, comprehensive text ensuring widespread practical application of the strategies and techniques.
Volume One: Permaculture and People
This volume, in Chapters 1, 2 and 3, explains permaculture and provides the information to design systems and choose the appropriate techniques. They are the foundation for the rest of the guidebook. Chapters 4, 5 and 6 connect permaculture to people and communities, including training, livelihoods, economies, urban ideas and community resilience.
Ch 1 Permaculture ethics and principles
Ch 2 Natural patterns
Ch 3 Design strategies and techniques
Ch 4 Urban and community permaculture
Ch 5 Cooperatives
Ch 6 Trainers guide
Volume Two: House and Gardens
Volume Two includes information that directly relates to families, family houses and family garden production. It also links these ideas to community-scale techniques. Chapters 9, 11 and 12 are foundation chapters for many chapters in Volume Three.
Ch 7 Houses, water and energy
Ch 8 Food, health and nutrition
Ch 9 Soils
Ch 10 Family gardens
Ch 11 Seeds and propagation
Ch 12 Plant nurseries
---
Volume Three: Regenerative Agriculture
This volume is called Regenerative Agriculture because the techniques and strategies continuously improve the land, production and environment over time. The chapters explore different parts of tropical agriculture and describes practical steps for achieving good results. In Volume Three chapters, such as Ch 14 Integrated pest management (IPM) and Ch 17 Animals, are also important for referencing and linking with Volume Two.
Ch 13 Sustainable agriculture
Ch 14 Integrated pest management (IPM)
Ch 15 Trees
Ch 16 Bamboo
Ch 17 Animals
Ch 18 Aquaculture
The chapters are also integrated with each other, reflected by the content and reference points within the chapters.
---
Introductions
Each introduction contains its own foreword, welcomes the reader and explains about the guidebook and its purpose. It lays out the challenges we face environmentally and as a society, and the tools we have to build solutions to those challenges. Tips for how to access the information are also included.
Glossary
The glossary contains clear explanations of key words that are used in the book, which are important to understanding the concepts and techniques. Included are words that might be unfamiliar to some readers, especially those readers that are new to permaculture.
References
The reference section is the vital 'next step' for guidebook users. We list a large range of websites providing information that follows on from the guidebook and explain many strategies, techniques and concepts in greater detail.There is a list of general websites as well as a list of websites linked to each chapter for further research. As with the guidebook we have only chosen websites which are practical and provide clear easy-to-follow information. In the reference section we have also included all the fantastic books used for researching and checking information for the guidebook.
---
About the Authors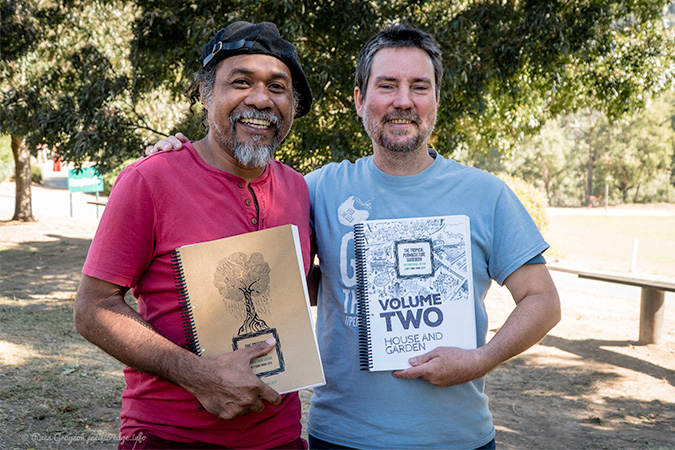 Ego Lemos and Lachlan McKenzie have worked together as friends and colleagues since 2001 when Lachlan first volunteered with Permatil in Timor-Leste. They are both passionate advocates for social equality and justice, food sovereignty and environmental restoration, with permaculture being the perfect method for advancing and achieving those goals. Together they wrote and coordinated the production of the original Permaculture Guidebook from Timor-Leste published in 2008 and have continued that partnership for the Tropical Permaculture Guidebook.
Ego Lemos (Dip. Permaculture and MA Community Development) works as the Executive Director of Permatil. His previous position was the National Adviser on Curriculum Development for Basic Education on Arts & Culture and Permaculture School Gardens, for the Ministry of Education of Timor-Leste.  He is also a lecturer in Sustainable Agriculture and Public Arts & Culture at the University of Timor-Leste.  He has received several international awards for his national contribution to music, art & culture and community development.
Ego is the founder-coordinator of the Sustainable Agriculture Network and Organic Agriculture Movement in Timor-Leste. He is also the founder-coordinator of Permaculture Timor-Leste (PERMATIL), as well as the founder-counsellor of the PERMASCOUT and PERMA-YOUTH movements.
He co-authored 'Permaculture Gardens for Kids' produced by PERMATIL, as well as both editions of the Tropical Permaculture Guidebook.  He is sole author of the 'Training Manual for Agro-biodiversity in Timor-Leste (GIZ-AMBERO) and the Arts and Culture section of the National Curriculum for Basic Education Grad 1 – 6 (Ministry of Education).
Apart from his Diploma of Permaculture Design, Ego also has certificates in Monitoring Evaluation and Learning (MDF Pacfic-Indonesia Consultancy) and Integrating Nutrition in Primary Education Curriculum (FAO). His Ted Talk: 'School Gardening to Tackle Malnutrition'  illustrates his work, music and why embodying permaculture within the school curriculum is so important.
Lachlan McKenzie (Dip. Permaculture) has been immersed in permaculture since completing his Permaculture Design Course (PDC) in 1994 in Burra, South Australia. After many years practicing and designing, Lachlan completed several advanced permaculture courses and an internship at Djanbung Gardens Permaculture Centre with Robyn Francis. His permaculture adventures took him to Timor-Leste in 2001 working for 5 years with Timorese NGO Permatil and consulting for International NGOs providing trainings (including PDCs), writing curriculums, developing work plans, creating educational materials and demonstration sites. This culminated in co-writing and producing the Permaculture Guidebook from Timor-Leste in three languages. An accompanying bi-lingual Permaculture Facilitator's Handbook and permaculture educational DVD were created working with IDEP Foundation in Bali and post-tsunami Aceh, Indonesia.
From 2008 – 2015 Lachlan worked in northern Australia with school gardens, community gardens and teaching permaculture courses. He then ventured to the UK and Europe for 2 years, volunteering with Permaculture Association Britain, and working with permaculture projects and permaculture education in the UK, France and Portugal. He is a core member of the International Permaculture Education Network (IPEN) project and on the secretariat team for the global Permaculture Collaborative Laboratory (CoLab) project.
Now back in South Australia Lachlan is continuing with those roles and with this guidebook project, as well as being active in the local community and getting a garden growing!